Home
»
Project Talim
»
Major Activities of Talim Project

Kishanganj shows why Lalu lost Bihar
Major Activities of Talim Project
Capacity Building Initiatives
Teachers training in Nonformal education from Nalanda
Azad India India entered into MOU with Nalanda a Lucknow based resource agency to organize regular capacity building trainings to Project Talim on various aspects of the program.
The first training was organized for six days in June by Mr Sanjeev Srivastav and Mr Pradeep Tewari followed by second training in August done by Mr Sanjeev Srivastav and Mr Bhola Nath again for six days.Two days training was done for cluster level coordinators.
The main focus of the trainings were to improve the efficiency of the NFE teachers and to clear their doubts. The project team also prepared low cost learning materials for the students.
The main discussions in the trainings were
What is primary education.

Importanc of primary education

Difference between the needs of humans and animals

SWOT Analysis and how to fill the gaps.

Indian constitution and Rights and Duties

Playing games to improve mental agility,curioursity ,entertainiment

Improving writing skills and develop learning interests.

What is need for school

Main learning principles- Knowledge level of children before coming to the centre

Mental and Physical development at primary level

Hearing and learning

Analysis

To understand and follow rules

Need to have interesting learning system for the children

Types of learnings like roleplay,visits,group work

Evaluation- weekly,monthly,half-yearly,yearly,oral,written evaluation

Analysis

Centre management

Work plan

Main qualities of good teacher
Training of Trainer Program organized by Nalanda at Lucknow
Azad India Foundation is constantly trying to upgrade and improve the effeciency and capacity of its Project team members for successful implementation of the program.
In this regard the Project Coordinator Mr Nazir Alam and Cluster Coordinator Mr Nadim Akhtar attended 2 training programs of 10 days and 7 days at Nalanda,Lucknow. Mr Nazir Alam also visited Beti Foundation in Balrampur ,Uttar Pradesh to see their work in Government schools.
Azad India Foundation also sent Cluster Coordinator Mr Zahoor to Nalanda in February for 4 days on exposure visit.
The main focus of the program was to enhance necessary skills including subject related teaching techniques of the program staff which can later be shared within the program team.
Teachers Support Group
Teachers Support Group (TSG ) has been formed for the twin purpose of preparing better action plan and internal training of teachers . This 7 member group has under gone comprehensive training from resource agencies of Bodh, Jaipur and Nalanda,Lucknow.They conduct monthly meetings with the project teams and orient them on various aspects of teaching methodology.
NonFormal education through NIOS
In April the number of students enrolled in Madarasas and government schools were 3592. AIF carried out tracking of students in September which revealed that 291 students have dropped out or joined other Madarasas. Till March 2013, 3325 children are studying in 30 Madarasas.
A total of new 500 students were enrolled in class III accordance with the new guidelines of NIOS.They were promoted from those children who were in pre-primary level last year. Their monthly and quarterly evalution was done to assess their progress.
A total of 1507 children in pre-primary group attended madarasas where they were given education upto level I and II.
After the time adjustment with the govt schools the attendance of the students stood 76%.
The course completed till March as follows
SL.NO
CLASS
SUBJECT
LESSON
TOPIC/CONTENT
TLM USED
01
I,II
UDAN(MATH)
LESSIONS COMPLETED
I) SUBTRACT & MULTIPLICATION
II) DIVISION
1.DIVISION OF BLACK BOARD.
2.DIVISION OF GROUP.
BLACK BOARD, CARD BOARD, STICKS, STONE, PEBBLES.
UDAN(HINDI)
ALL LESSION COMPLETED
REVAISE
I) PARYAWATCHI SHABDO KO LIKHANA.
II) KATHIN SHABDON KI PAHCHAN.
IV) STORY.....MURKH KACHUWA
BLACK BOARD, PICTURE CARD,BOOKS,TREE CHART.
02
III
HINDI
ALL LESSION
COMPLETED
I) DIP JALY.
II) SHASHI INDRA.
III) KATHIN SHABDON KO LHIKHWANA.
IV) PRASN UTTAR KARWANA.
BLACK BOARD, PICTURE CARD,BOOKS
MATH
REVISION
I) AKRO KA CHITRATMAK NIRUPAN.
II) VALUE OF DHARITA.
BLACK BOARD
EVS
REVISION
I) SUN, MOON AND STAR.
II) CHHATRA PATI SHIVAJI.
SURROUNDING ENVIRONMENT,PICTURE CARD,BOOK,
ENGLISH
WRITING
I) PART OF BODY.
II) VERB
III) WOARD MINING.
CHART,BLACK BOARD
03
IV
MATH
REVISION
I) TIME BOND.
II)DHARETA &ARIYA.
III)HCF&LCM
COUNTING CHART,BLACK BOARD
S.SCIENCE
REVISION
I) HOME TO FROM FILD
II)SURROUNDING CLEAN
SURROUNDING ENVIRONMENT.
ENGLISH
ACTIVITY WITH CHILDREN
I) POEM..LET ME DIAL.
II) SENTANCE.
III)TENSE
CARD BOARD, BOOK
HINDI
REVISION
I) BIJAY.
II) SHULPANI.
III) SHASHI RECHA.
BOOK,PEN,BLACK BOARD
04
V
HINDI
REVISION
I) CHATUR GIDHAR.
II)KATHIN SABDO KO LIKHANA
III) QUESTION ANSWER.
IV) MOUT KA PINJRA.
BOOK,SURROUNDING ENVIROMENT ,BLACK BOARD
MATH
TIME
READING TIME WITH THE HELP OF WATCH
WATCH,COPY,PEN BLACK BORD ETC.
S.SCIENCE
REVISION
I) USE OF OUR NATURAL RESOURCES
II) OUR FOREST.
III)LETE US GO TO SURVEY III
SURRAOUNDING,BLACK BOARD
ENGLISH
GRAMMER
I)KINDS OF TENS
II)VOWELS AND CONSONANT.
III)TRANSLATION TO ENGLISH
BOOK,COPY, PICTURE CARD,BLACK BOARD.
06
VI
HINDI
REVISION
I)TV KI PATH KATHA.
II) MARTA KIYA NAHI KARTA.
III) KAHTHIN SABDO KO LIKHWANA.
BOOK, ,BLACK BOARD
MATHS
GEOMETRY
I)NAME OF ANGLE &SIDE OF TRIANGLE.
II)HCF
COPY,BLACK BOARD, GEOMETRY TOOLS
ENGLISH
GRAMMAR
I)VERB
II) ENGLISH TRANSLATION.
III)WRITING OPPOSITE WORD.
BOOK,BLACK BOARD
07
VII
HINDI
GRAMMAR
I) KIRYA OR KARM KE BHED.
II)SAMASH ,SANDHI WECHED.
III)PARYAWATCHI SABDO KO LIKHANA.
BLACK BOARD
MATHS
PRACTICAL
I) GEOMETRY, CUBOID, DATABASE.
II) DENOMINATOR.
BLACK BOARD
ENGLISH
GRAMMAR
I) SPEECH.
II)PREPOSITION &CONJUNCTION
III)TRANSLATE ITO ENGLISH.
BLACK BOARD.
08
VIII
MATH
REVISION
I)MAPPING&VIEWS AND PERSPECTIVE
BLACK BOARD
ENGLISH
GRAMMAR
I) FILL IN THE BLANK.
II) TRANSLATE IN TO ENGLISH
BOOK, BLACK BOARD
HINDI
REVISION
I) PROSI PARWATEY DESH KI JANKARI.
II)NIBAND
BLACK BOARD, BOOK,MAP
Following number of children were given remedial classes who were studying in different classes after AIF got them admitted to formal schools under Right to Education Act.
| | | | |
| --- | --- | --- | --- |
| Class | Total Children | Boys | Girls |
| Class III | 543 | 263 | 280 |
| Class IV | 483 | 235 | 280 |
| Class V | 315 | 160 | 155 |
| Class VI | 189 | 94 | 95 |
| Class VII | 12 | 3 | 9 |
| Class VIII | 13 | 7 | 6 |
NIOS Examination for Class - I Azad India Foundation organized annual examination for 500 children who are
SL.NO
CLASS
GRADE
TOTAL STUDENTS
A
B
C
D
01
THREE
85
244
149
22
500
Enrolled in Class III under NIOS programme.The result along with answer sheets will be send to NIOS Delhi office for certificates.
Azad India also organized annual examination for children studying in Class I and II to assess their knowledge level.
SL.NO
CLASS
GRADE
TOTAL STUDENTS
A
B
C
D
01
ONE
41
237
294
93
665
01
TWO
23
175
155
71
424
Competency Level of Children
The competency level of children were assessed individually at all the centres and teachers tracked the progress of the each and every child. MIS and child profile are being maintained at all the centres. The competencies assessed are based on the books followed by the teachers.
Computer Education Program
Azad India Foundation set up computer centre at village Chattergach for rural girls. The computer centre provided three months basic training in computer application.
Two computers were given to Madarasa Bir Pur and Madarasa Taiyabpur for the boys and girls studying in the Madarasas. Mr Ashok Das computer teacher working with Azad India Foundation take classes at all the three centres.
147 children have undergone computer training till March including madarasas.
The course content followed at the computer centres

Basics of Computer Application

History of Computer

On and Off including parts of the computer system

MS Office- MS Word, PowerPoint and Excel

Paint and Brush

Internet, Email

Copy, Paste, Cut and Edit
Capacity Building of selected Madarasa Teachers
AIF is building the capacity of selected madarasa teachers on issues related to formal education and mainstreaming of students studying at the madarasas.
AIF organized meetings with the Maulavis and Madarasa teachers to see their interest in receiving the capacity building trainings on methods of teaching.
It is heartening to note that majority of them expressed their desire and interest in attending these training programmes.
All the Maulavis and Maulanas held the view that modern education is the need of the hour and progress of the Muslim community depends on education.
AIF organized 2-3 days of training for the Madarasa teachers subject to the availability of time and sustaining their interest.In the first step they prepared TLM for teaching Urdu to the students which was also tested with the students.
A total of 46 trainings were done at different Madarsas where 53 Maulavis attended training programs.They prepared TLM and also played games and activities.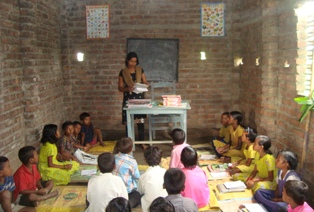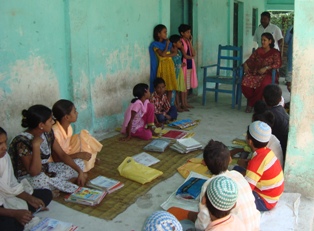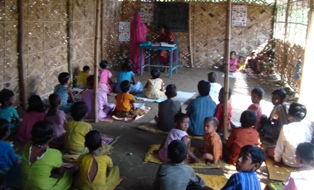 Balubari Madarasa Zeenatul Quran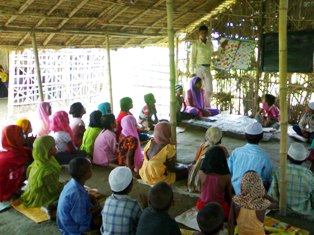 Saithabari Madarasa Khawja Gharib Nawaz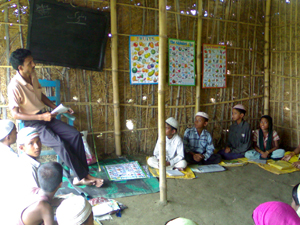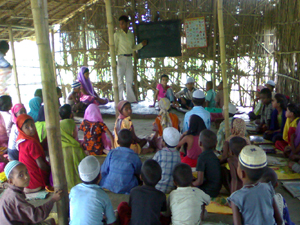 Project Talim-II Final Report
Facts and Figures about Kishanganj » | Kishanganj Tourism » | Irani Basti in Kishanganj »