Home
»
Project Talim
»
About Project Talim-II

Kishanganj shows why Lalu lost Bihar
About Project Talim-II
Project Objectives
The major objectives of the project are :

To ensure quality education for rural children

To ensure greater participation of girl children

To strengthen the formal education system

To create educational awareness within the community

To provide functional literacy to girls above 14 and adult women
A Brief about Project Talim Phase II
Project Talim is being implemented in 20 villages of Pothia block. The main focus of the program is to give formal education to the children studying in the madarasas who previously had exposure to Islamic education based on deeni talim and religious scriptures. AIF is already working in these villages for last three years bringing out of school including drop-out children to education through the medium of NIOS .AIF main focus have been on the Madarsas in the Muslim dominated villages, where children are given formal education through National Open School's (NIOS) basic education programme. AIF is continuing with the remedial classes to children who are directly enrolled in the government schools ensuring that they complete class VIII. The education centres also provide functional literacy to the girls above 14 years and adult women in the new and old intervention area.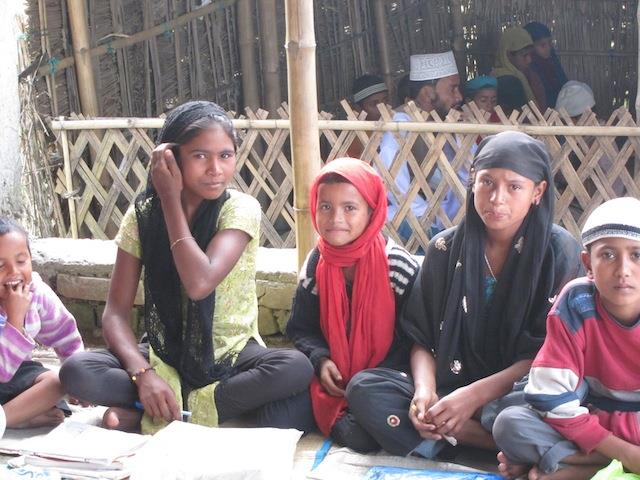 Baseline Survey Report
The Baseline survey was done by Reach India a National level organization engaged in research and other activities.The main objective of the survey was to know the status of education of children especially girls in 6-14 age-group in the new madarasas and surrounding villages.
The second objective was to know the status of literacy and education level of the women and girls above 14 in these villages.Survey methodologies included collection of primary data with a structured questionnaire.FGDs with women and men.Discussions with madarasa teachers and school teachers.Analysis of secondary data collected by AIF team on the status of the government schools.468 respondents were interviewed for the purpose.
As per data villagers sent their sons to schools and madarasas more compare to girls.While 34.3% boys below 14 years are attendign government schools compare to 22% girls of the same age.The drop out of girls 19% has been higher than boys 10.5%. Only 21% of women attended any form of schooling in past.
Within a village the status of schooling among scheduled caste and minority is same compare to general castes Hindus.There are 19% of girls below age of 14 years and 45.5% of adolescent girls who had not seen school or Madarasa.
As there is major difference in terms of schooling % between boys and girls and it increases as girls grow up.It has been observed that as girls grow up their dropout rate increases because of social stigma of education with respect to girls,dowry,child marriage and overall the concept of girls being other's asset.The Muslim community is no longer free from these evils.
It is also observed that 52% of girls and 20% of adolescent girls are continuing education either in Madarasa,government school or both the places.
The main reasons for dropout of girls as some of them are not interested in study.The other reason as 11.4% of girls and adolescent drop out as their parents were not very keen to send their ward to school.
There is inadequate facility of schooling either by government department or private sector or community as a whole.The schools are far off from the village so children find it difficult to attend while some of the parents are eager to support their children in private schools no such schools are available.There is very little community initiative and in this scenario most of the children donot cope up with the hardship of school going in far away villages and gradually dropped out from school.Some of the boys and girls are also engaged in daily wages to support their family income.
When asked about their preference to continue their study majority boys (45%) opted for Madarasa while girls (53.4%) and adolescent girls (72%) for formal government schools.The reason given is cycle scheme by the government department.
Exposure visit
First batch of 4 Maulanas were also sent to Nalanda in Lucknow on exposure visit to see their Madarasa program at Barabanki.
Workshops and Meetings with Women groups and CBOs
Azad India Foundation organized meetings and workshops with women groups and community members in the intervenation area.40 one day trainings were done on different issues where 389 women and 75 men were present.
The main issues discussed were
Functioning of government schools in the village

Formation of parent teacher committees to monitor the progress of the children.

Regular meetings of shiksha samities and check on the functioning of school teachers.

Women literacy and formation of Mahila Mandals and Kishori samohs

Community involvement in improving overall education in Kishanganj
Government School Program
Azad India Foundation took formal permission from Dept of Primary Education in Kishanganj to supervise the progress of the students admitted by AIF in previous three years. These students are studying in different classes.
AIF's teachers provide support to government teachers in the schools in teaching process. They also conduct interactions with the parents and members of school shikshan samities to improve the conditions of the schools.
At present AIF has taken up 28 government schools that are in the intervention area. 25 meetings were done with school shiksha samities in different schools where members decided to meet atleast twice a month to oversee the progress of the schools.
Parent Teacher Committees
It has also been observed during interaction with the community members that government school teachers do not engage parents in any activity related to their children.Most of the time parents are not even aware of the class in which their children are studying or the progress child is making.
Keeping these issues in mind AIF has formed parent teacher committees in 24 schools where these act as pressure groups for improving the level of the education ,presence of teachers in the school during school hours etc.
Promotion of Science in Government Schools
To promote science among young children Azad India gave science kits from Eklavya to Government schools. The government schoolteachers and children both enjoy the simple experiments. So far kits are given in four Government schools of Baksa, Tappu, Purendarapur and Kalyaganj.
The classes covered are from VI to VIII.The teachers read the chapter and do experiments side by side thus making the learning interesting and easier for the children.
Bal Melas for Children
Azad India Foundation organized different activities for the children studying in government schools and madarasas.In this regard 9 Bal Melas were organized in different government schools and madarasas.About 661 boys and 608 girls participated in the programs where they presented skits,songs,dance and poems etc.
These Bal melas were held with the support from the government school teachers.The main aim of the Bal Melas was to bring out the talent and creativity of the rural children to the forefront.Special quiz and drawing competition were also held and winners were given prizes.
Functional literacy for girls above 14 years and women
The literacy rate among women is very low in the Kishanganj. It has been realised that it is important to inculcate the importance of education among women especially among the mothers so that they send their children to study. The girls above 14 years of age who dropped out of school due to various factors are also a target group so that at least functional literacy should be imparted to them.
For this purpose AIF has formed a separate team headed by one cluster Coordinator and 10 literacy teachers who work in different villages. They have formed Mahila Mandals and Kishori samuhs of 10-15 persons each.
The team leaders underwent ten days training on functional literacy from Delhi based organization Nirantar in Delhi and BundelKhand.
| | | |
| --- | --- | --- |
| SL.NO. | ACTIVITY | PARTICIPATION |
| 1 | Total no. of women literacy teachers | 10 |
| 2 | Totat no. of Centers set up in target villages | 47 |
| 3 | Total no. of women centres set in target villages | 30 |
| 4 | Total no. of adolescent centres set in target villages | 17 |
| 5 | Total no. of women and girls covered in literacy program including women from the last year | 759 |
| 6 | Average number of women who attend regular literacy classes | 316 |
Special Day Celebrations
Independence Day
Azad India celebrated Independence Day on 15th August at all the Madarasas with great enthusiasm. Children presented songs and small programmes.
World Literacy Day
AIF organized world literacy day on 8th September with series of meetings with women and SHG groups in different villages.
Special Reading Session with Pratham
AIF also organized special reading sessions at Madarasas for the Pratham's special reading sessions organized on 8th September.
Drawing Competition Surf Excel "My Wish"
Azad India organized drawing competition on 'My Wish' for the children studying in government schools of Purenderpur and Chichwabari.A total of 80 students participated in the competition and their paintings were uploaded on Surf Excel's website.
Republic Day Celebration
Azad India celebrated Republic Day on 26th January at all the Madarasas with great enthusiasm.
International Women's Day
Azad India Foundation celebrated International Women's Day on 8th March with meetings and special program with members of SHGs.The theme of the program was on starting small scale buisness for women empowerment.
Project Management

The Project supervisor monitor all the activities through regular field visits.

The intervention area is divided cluster wise under coordinator for effective supervision.

10 Literacy teachers work directly with the community including women and girls above 14 years on functional literacy.

30 Teachers teach for 2-3 hours at Madarasas to NIOS students .

Teachers then visit their assigned government schools where they take remedial classes.

Reports are shared with the Distict Education Officials also.

Attendance registers are maintained at all the Madarasas.

Weekly plans are prepared keeping all the proposed activities in mind.

The teachers present weekly reports to the cluster coordinator who present consolidated report to the Project Coordinator.

Regular tests are conducted to assess the level of improvement among the students.

Project supervisor and cluster coordinators organize the community meetings.

Monthly staff meetings are organized to get feedback about the project.

MIS is developed to track the indicators.

Competency tests are conducted to assess the progress of the children.
Facts and Figures about Kishanganj » | Kishanganj Tourism » | Irani Basti in Kishanganj »