Home
»
Kishanganj Tourism
Places of Tourist Interest in Kishanganj
Ruins of Churli Estate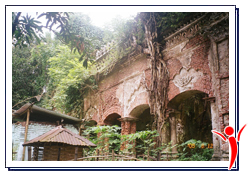 Kishanganj bears with pride, its connection to the erstwhile Churli estate on the outskirts of Thakurganj block bordering Nepal. The Haveli, once the pride of the Churli estate, is now in a totally dilapidated condition, even as it reminds visitors of its proud bearing.
During the British period, this estate was owned by Kudan Lal Singh and extended up to Sonapur in West Bengal, Kharudah in Kishanganj and 100 km up to the Nepal border. Churli Estate had taken zamindari rights (landlordship rights) from Tagore estate for two mauzas, Besarpatti and Nijagacch.
After independence Tagore estate and Churli estate together fought the court case against the abolition of zamindari but lost everything in the land ceiling Act. Today, the descendants of Kudan Lal Singh live in abject poverty in the vicinity of the Haveli.
Click here for images of Churli Estate
HarGauri Temple
HarGauri Temple is located in Thakurganj block. It is believed that this temple is at least 100 years old. In the year 2000, it celebrated its Golden Jubilee Year. This temple was built by the Zamindar of Tagore Estate. Folklore says that the Zamindar found the statues of Mahadev and Parvati co- joined together in one stone. He took the statue to Benaras, but one night he dreamt that Lord Mahadeva instructed him to return the statue to the original place and build a temple there. The Zamindar got so scared that he returned back next day and also subsequently got the temple constructed. Every year on the occasion of Shiv Ratri people come from far off places to worship and to offer holy water to the Shivling here.
Bandarjoola
Bandarjoola is a village located in Benugarh area. During excavations beautiful statues of Lord Vishnu and Sun God were found. This clearly marks the historical relevance of this place. Bandarjoola patiently awaits the arrival of archeologists to unravel its mysteries
Kachuudah Lake
This beautiful natural lake is located 40 km from Kishanganj. It is home to hundreds of migratory birds that make it their temporary home. Recently the Tourism Department, Government of Bihar, sanctioned money for the beautification and development of the area around the lake for promoting local tourism.
Facts and Figures about Kishanganj » | Kishanganj Tourism » | Irani Basti in Kishanganj »