Home
»
Volunteer Feedback
»
Alvise Fabretto
MY LIFE IN KISHANGANJ
[By: Alvise Fabretto]
I arrived in Kishanganj in January 2006, with a lot of hope and few expectations. I was called there by the Azad India Foundation to work as an English teacher for the children of Azad Public School. Kishanganj is situated near very beautiful places as Darjeeling and mixes together the benefits of a natural place, as the quality of the air, with the courtesy of its inhabitants.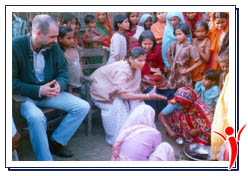 People are very peaceful, sometimes a bit curious with strangers, but always very respectful for the novelty I represented for them. Surrounded by the vivacious presence of children and pupils as well as by the kindness and attention of the staff, I advice this experience to all the humanitarian aidworkers who love working in the field of education. This is actually one of the biggest opportunities to know and discover the real India, working safely and in good conditions in close contact with the local reality.
Poverty is the greatest problem of this region and it therefore needs western volunteers and capitals. The seriousness of the Foundation and its staff, who have been engaged for many years in the strife for a good educational level and a minimum of medical assistance to the local community, is able to guarantee all the necessary support to the volunteers. I hope to come back there as soon as possible.
Facts and Figures about Kishanganj » | Kishanganj Tourism » | Irani Basti in Kishanganj »